Best Weekend Data Plans 2020 for you, checkout the Best Weekend Data Plans on mtn,glo,airtel,9mobile below.
Weekend Data Plans 2020
Glo 1.25GB for N200
The grand master of data, glo has introduced a new data plan usable only on Sundays… it gives you 1.25GB for N200. It works exactly like every other data plans but the only drawback is the Sunday limitation.
How Do I Subscribe to Glo 1.25GB for N200
Dial *777#, and choose choose Night and weekend plans, scroll down to the plan of your choice and subscribe.
The validity of this plan is 1 day, which is Sundays only.
Glo Weekend Data Plan
Glo currently offers one of the cheapest weekend data plan, usable only during weekend Friday – Sunday. You can get 3GB for N500. If Glo reception is okay in your location, then it is advisable you go for this plan.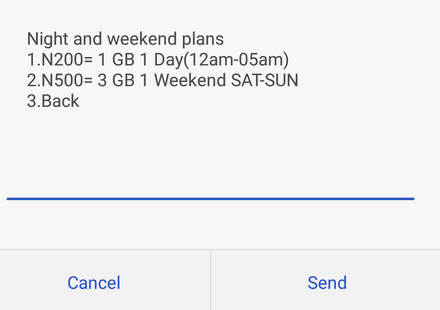 Subscribers can use this plan from 12 am on Saturday till 5 am on Monday morning. Dial *777# to subscribe to the plan.
9mobile N200 for 1GB Weekend Plan
Every 9mobile subscriber is eligible for this plan; if you have any downloads to make, videos to stream and 9mobile network strength is superb in your location, then it's advisable you go for this plan.
To subscribe to this plan, simply dial *929*10# to get activated… dial *228# for data balance.
Also remember that you can get 1.5GB for N200 and 4.5GB for N500 on 9mobile. Validity is 3 days and 5 days respectively.
MTN 4GB for N500
If you are MTN subscriber, you might want to consider 4GB for N500 two days plan, It should be enough to cater for your need for the weekend. Here is how to subscribe for the package.
Simply get a new MTN SIM registered and you'll be automatically eligible for double data offer for 4 months.
Dial *131*1*1*5# to get the package or dial *131#… You'll be given 2GB plus extra 2GB summing it up to 4GB.
If you are using Old MTN Sim, you'll only get 2GB.
Airtel 1GB for N200, 6GB for N1500
Airtel 1GB for N200 has been saving lives since most people are not eligible for MTN 1GB for N200. You can pick up your old sim and dial the code below to get the package.
*141*241# to get the package.
Airtel 6GB for N1500
Is a better deal to those who have something big to download. For some, this package last you for a month, while for others is just a week.
Dial *141*504# to activate this plans.
9Mobile 7GB for N1500
This plan will last you for a whole week if you are such that use a lot of data + you'll have free access to social media.
How Do I Activate it?
*200*3*1#
Glo 7GB For N1500
It is a new addition, and its meant for those who have Glo good network reception in their localities. You can dial *777# and follow the prompt to activate it.
The duration for this plan is 7 days.